STRENGTH OF MATERIAL ACE ACADEMY HANDWRITTEN NOTES
STRENGTH OF MATERIALS
GATE – IES – GOVT EXAMS – HANDWRITTEN NOTES
ACE ACADEMY TRAINING NOTES
FREE DOWNLOAD PDF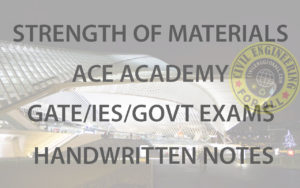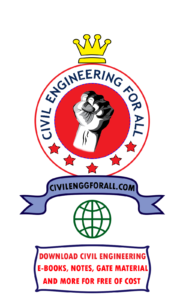 ABOUT THE BOOK
TITLE : STRENGTH OF MATERIALS – GATE/IES/OTHER GOVT EXAMS HANDWRITTEN MATERIAL
SUBJECT : STRENGTH OF MATERIALS
IDEAL FOR : GATE,IES, PSU'S – CIVIL ENGINEERING, TSPSC AE/AEE, OTHER CIVIL ENGINEERING GOVERNMENT SECTOR EXAMS.
CONTENTS : ALL THE TOPICS UNDER GATE/IES STRENGTH OF MATERIALS SYLLABUS
Strength of materials :
Strength – Resistance to failure is called strength. It is a material property.
M20 Fck – 20 Mpa
M15 Fck – 15 Mpa
Stiffness – Resistance against deformation is stiffness. This is a secondary design property.
Assumptions :
1. Material is continuous (no voids or no cracks)
2. Material is homogenous and isotropic.
Homogenous – At any point in one direction and same property. Ex wood iron gold
Isotropic – At any point in any direction and same property. ex – fine grained material iron gold
Orthotropic -At one point in perpendicular direction property are different. ex wood, sedimentary rocks marble
Anisotropic – At one point in different directions and different property. ex materials with cracks and voids.
Homogenous + Isotropic – At any point in any direction and same property. ex iron copper
3. Self weight is neglected. Stress vs Strain starts from origin due to this assumption.
4. Superposition principle is valid. Algebraic sum of various effects is equal to the total effect.
1. A member free to deform without showing reaction or resistance will have zero stress.
2. A member free to move away without any frictional resistance, stress developed is zero.
3. A member free to expand or contract due to temperature change, there will be no stress.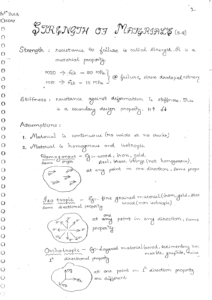 Strains :
Normal strains (due to normal force) is equal to change in dimension/original dimension. Normal strains are unitless.
Shear strains (due to shear force) : Angular change or distortion between any two mutually perpendicular planes in radian is shear strain.
As radian is a secondary unit, it is dimensionless.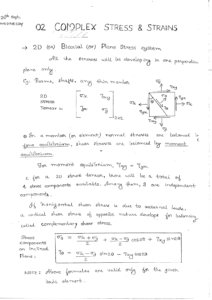 Volumetric strains is due to normal force and unitless.
1. Normal forces can cause change in dimension as well as volume
2. Shear forces can change the shape without changing in volume.
3. External force – Deformation – Resistance – Stress
Strain is independent and stress depends on strain.
Material properties :
1. Elasticity : Ability to regain shape on removal of external force.
2. Plasticity : Member undergoes permanent it plastic deformation at constant load.
3. Ductility: Material can be made into thin wires. Ex all soft metals. Ductility us related to tension. Ductility materials are strong in tension and weak in shear. They are moderate in compression.
4. Malleability : Pressed into thin sheets ex all ductile materials. Properties of malleable and ductile are the same.
5. Brittle : Fails suddenly. ex all brittle materials are strong in compression and weak in tension and moderate in shear.
6. Creep : The plastic or permanent deformation due to the constant load with time.